Free your inbox
We are excited to introduce a new improvement to your Dashboard on www.castlecorp.com.au.
For all orders placed with us from today, we will be adding PDFs of the documents you've ordered to your Dashboard. This means that:
you can access all of the documents you order from Castle in one convenient place – your Dashboard
your inbox will be free from large attachments that can slow down your system and clog up your email space, and
all documents from orders placed by your colleagues in your firm will also be accessible from your Dashboard, meaning you can follow up and check the status of client work in your colleague's absence.
We will continue to email you to notify you that your order has been completed, but we will no longer be attaching PDFs of your documents to emails themselves. Instead, we will direct you to login and download the documents from your Dashboard.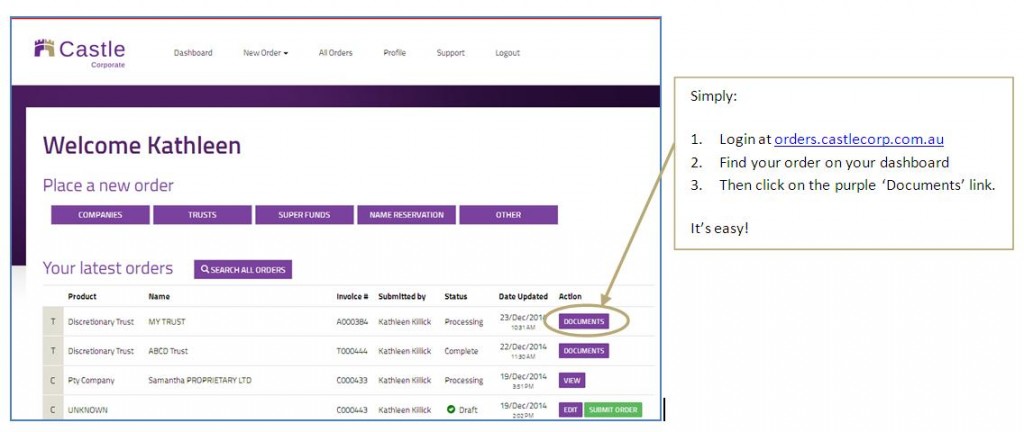 A few important things to note:
If you haven't yet registered,

you can do so here

. It only takes a moment, but will give you access to our

easy to use online order forms

and information on the status of your order. Importantly, you will need to have done this to access your documents going forward.
While all new orders from today (18 March) will have their documents accessible via your Dashboard, documents from old orders will not be available right away. We will be adding these retrospectively, but this will take time.
If you choose, you can download your documents and save them locally. Alternatively, you can simply access them via your Dashboard whenever you wish. We will keep the PDF versions of your order on your Dashboard from here on out, so you can feel secure that your documents will always be available for access from any computer.
If you have any questions, please let us know by calling 03 9898 6666. We'll be happy to help.