Did you know that if you choose to have an appointor when establishing your discretionary trust, you also have the option of allowing for the appointor to be succeeded?  If you choose this option, Castle can tailor a succession plan to fit your clients' needs.
Castle's succession plans can be set up with a single appointor, joint appointors or even family appointors. But what do each of these options mean?
Succession plan options
With any appointor, Castle gives you the option of either having no succession plan or having a succession plan where the appointor is survived by either: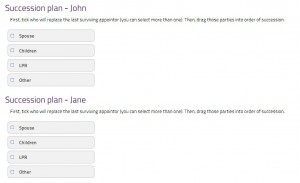 their spouse
their children
their LPR (Legal Personal Representative), or
someone else.
When using our online order form, simply tick who will replace the appointor and then drag each party into your preferred order for succession.  It's that simple.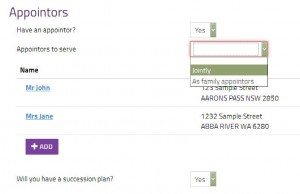 If you have two or more appointors, we also ask whether the appointors are joint or family appointors.
Jointly held appointors are generally a husband and wife and family appointors relate to different families being appointors, such as the Brown Family and the Green Family (normally a brother and sister arrangement). With family appointors, you then have the further option of each family tailoring their own succession plans.
Need it more tailored?
With all of our online order forms, you will find an 'Additional Information' box at the bottom. You can use this section to include any further information that you want to let us know, whether it's:
clarifying something in the form
requesting someone to contact you to discuss something further, or
asking for your order to be customised in some way.
Need more help?
We are always happy to help. If you need assistance with setting up a tailored succession plan, please give us a call on 03 9898 6666 and we can talk you through your options.